Art Gallery / current exhibition
Exhibition May/June 2015
Love (lost and found)

An exhibition of postcard-sized artwork
from artists from around the country.
Artists' reception: Friday, May 29th, 5:30–7:30pm
Please join us for the artists reception
Friday May 29, 5:30-7:30pm!
See the artwork in our online shop.
Also on exhibit through the end of May:
all work available in our online shop
Encaustic Mixed Media by Bridgette Guerzon Mills, Linda Wein, Melissa T. Hall, Kari Hall
curated by Bridgette Guerzon Mills
Susan's Books
Kids Art Series:
ART FOR ALL SEASONS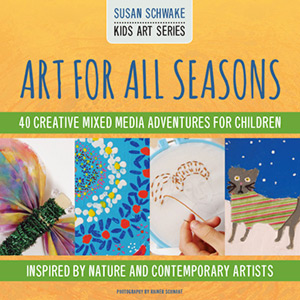 Susan's newest book is available now at artstream or online.
40 new creative mixed media adventures for children (and adults who dare) inspired by nature and by contemporary artists. [more info]
Published by Two Little Birds Books
Art Labs for Kids and everyone else!
Available at susanschwake.com, your favorite bookstores or at amazon.