Classes
Fall Classes begin September 14
Afterschool art for kids and teens, drawing, painting, clay and more. New: Fashion illustration!
Mixed media, beginning and advanced painting, and clay classes for adults.
Art classes / SessionS 2015/16
Our art classes are ongoing throughout the school year.
Classes are divided into six-week sessions to allow plenty of time for student exploration of the medium in use and completion of work. New lessons each week all year long - no repeats!

We are working on the schedule for the fall/winter 2015/16 sessions. Let us know if you would like a brochure or sign up for our newsletter. If you have any questions about which is the right class for you or your children please give us a call at 603.516.8500
Connect with us

on twitter


on facebook


via email


through the blog


sign up for our newsletter
In the Gallery:
10 Second Street, Dover NH 03820
603.516.8500, M-F 12-6 call ahead
Art Gallery / current exhibition
To Those Times We Can't Get Back
Mary Goldthwaite-Gagne
Cut Paper Drawings
See the artwork in our online shop here!
July 6-September 20

Please join us for the artists reception
Friday July 31, 5:30-7:30pm!
Susan's Books
Kids Art Series:
ART FOR ALL SEASONS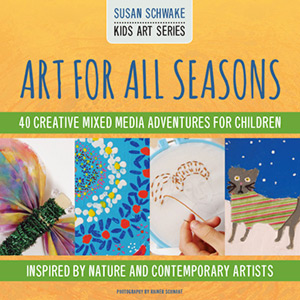 Susan's newest book is available now at artstream or online.
40 new creative mixed media adventures for children (and adults who dare) inspired by nature and by contemporary artists. [more info]
Published by Two Little Birds Books
Art Labs for Kids and everyone else!
Available at susanschwake.com, your favorite bookstores or at amazon.